Working from home barely seemed possible until the Covid-19 pandemic struck. Once workers became settled into new routines in their home offices, many decided they would prefer to stay in their homes and not return to the office. Many employers found the situation agreeable, and the working from home revolution moved ahead at full speed.
Unfortunately, working from home is not the cushy and care-free existence some believe it is, but many do not discover this until after making the transition to a home-based worker.
Those who work from home have challenges that are unique to their situation. Some of the top three unexpected struggles encountered by remote workers include,
Too Much or Too Little Supervision – Some supervisory staff will feel the need to micromanage to be sure their workers are on task. Others take a hands-off approach leaving staff members feeling alone and adrift.
A Lack of Respect for Boundaries – Workers hear phrases like, "It must be nice to stay home all day and take it easy." Others have friends and relatives disregard the fact that even though someone is at home, they are still required to maintain their work.
Difficulty Staying Productive – This issue is prevalent among those working from home. While a worker may be great at their job, they may not be great at their job while the doorbell rings, the dog barks, the baby cries, and their mother-in-law just pops in to say hello. Addressing productivity is vital and, once conquered, will help alleviate the other work from home challenges.
Top Seven Tips to Boost Your Productivity When Working from Home
Carve Out a Space for Your Work – If you have a dedicated space for work, it is easier to get yourself in the mindset for working and help you focus. Your ideal office space at home will give you enough privacy to focus and house all of the necessary tools of your trade. Additionally, a dedicated home office might be a tax deduction. Be sure to find out details from your tax professional.
Stick to a Set Schedule – Humans are creatures of habit. If you are behind your desk at 8:00 am every morning and maintain this consistently, your mind and body will sense it is time to get into work mode, shifting you into a productivity zone. Likewise, determine an end time or risk burning yourself out and accomplishing less.
Set Boundaries and Stand Behind Them – It is difficult to maintain any level of productivity when faced with distractions and interruptions. It may take some time, but you can train the others who live with you to respect your work hours and workspace.
Create Visual Cues – Providing an instantaneous signal that you are unavailable can be a valuable tool. Closed-door works wonder but try using another visual alert if you cannot close a door. Some people wear headphones, even if they are not listening to anything. One teacher said she would put on a hat whilst grading papers. Her family learned not to bother her when she had her thinking cap on her head.
Make Technology Work for You – Minimise your daily distractions by using applications on your phone or laptop. For instance, the do not disturb button in the iPhone can be set for the same time each day to silence calls and messages. You can also create a list of individuals who can get through to you in this mode. This is handy if you expect to receive a call from a doctor's office or if your boss needs to speak with you directly. Additionally, remember to ask your tax expert about deducting computers, phones, and other office equipment that is necessary for your job.
Take Regular Breaks – It may seem counterintuitive but grinding on with your work until you see double or your head hits your keyboard is not productive. When you take a break, move to another area of your home. Sit outside if possible or walk around your garden for a few minutes. Even something as simple as watching some birds flit around the yard can help reset your mind and recharge you.
Pay Attention to Your Inner Clock – Some people bounce out of bed at sunrise and do their best work early. Other folks can barely speak until almost noon and perk up later in the day. If your job offers you the flexibility to choose when you work on certain tasks, plan your schedule according to when you are at your best.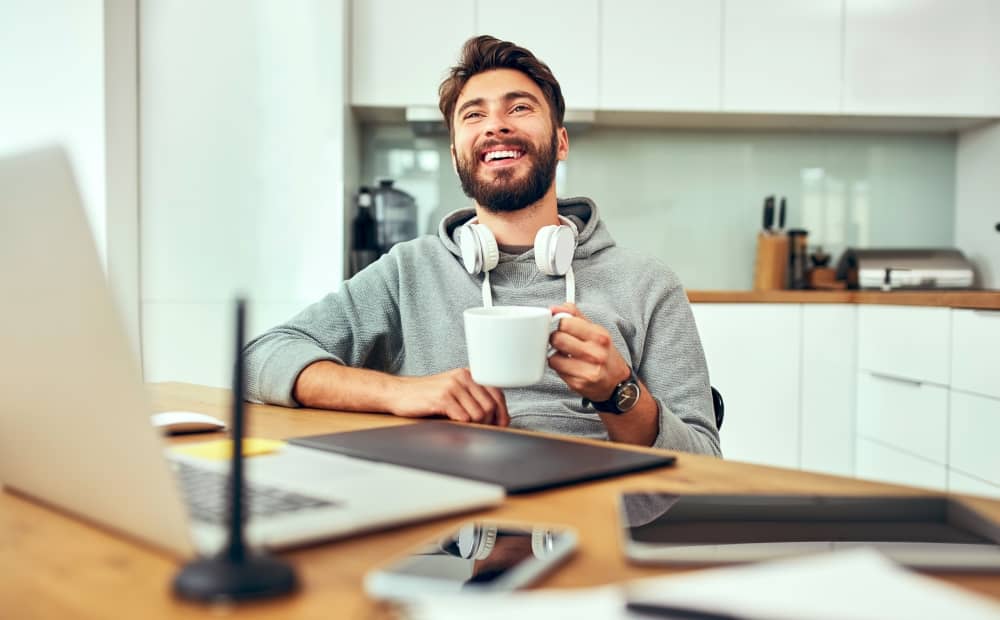 Working from home can be an excellent opportunity to gain a new perspective on your job. You may realise that it can be a struggle to maintain your productivity, so do not shortchange yourself and make your job more challenging than necessary. All employees need to have the right tools to make their jobs possible; make sure you can stay on top of your tasks by using quality equipment. Keep good records of purchases and be able to back up everything you claim. Numerous items that you will use to work from home are tax-deductible.
If you are struggling with lodging your taxes, feel free to reach out to Tax Return.com. Our experienced staff can work out your returns and will make sure you get every deduction possible.
*General Advice Warning – "Any financial product advice provided by TaxReturn.com.au is general in nature and is not personal financial advice. It does not take into account your objectives, financial situation, or needs. Before acting on any information, you should consider the appropriateness of it regarding your own objectives, financial situation and needs."